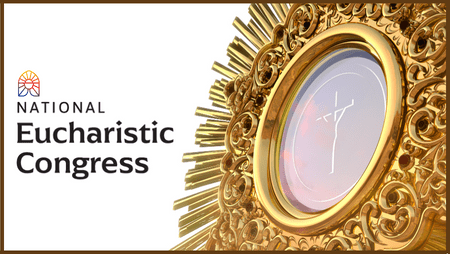 The National Eucharistic Congress will be held July 17-21, 2024 in Indianapolis, Indiana. Join approximately 80,000 Catholics from around the country for this potentially once in a lifetime experience. Get ready for world-class teaching, powerful worship, joy-filled fellowship, and practical guidance for sharing the love of Jesus in your community when you return home.
This is a ticket to the Congress only. Transportation to and from the Congress and hotel accommodations are NOT included.
Please pay by credit card only. Tickets are non-refundable. 
If you are ordering for a group, you will need to fill out all the questions for each ticketholder beginning with their first and last name, their email, etc. Once you receive confirmation from us, it will take up to two weeks for us to retrieve the ticket from the registration system of the National Eucharistic Congress.