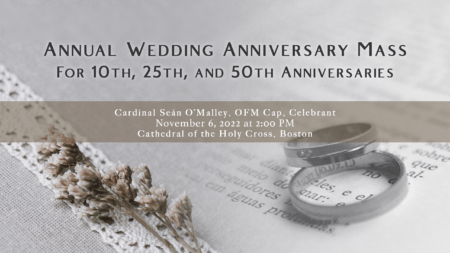 Please note that as of October 19th, registration is now closed for this event. All "unregistered" anniversary couples are still welcome to attend, renew their vows, receive a blessing, participate in anniversary group photos with the Cardinal and, of course, bring family and friends. While we can no longer include your names in the keepsake program, we are happy to mail out an invitation to the Mass. Please email Emily_Elliott@rcab.org with your names and address to have an invitation sent to you!
ADA seating and parking will be available near the Cathedral. All others can park at nearby parking venues; please see the information below.
For more information, please view our frequently asked questions document below, or email Emily Elliott at Emily_Elliott@rcab.org.
Anniversary Mass Frequently Asked Questions